My name is Helle Sinkbaek. I was born in 1974 and grew up in Denmark. At the age of 19 I met my Dutch partner and I decided to move to the Netherlands. After I completed my educations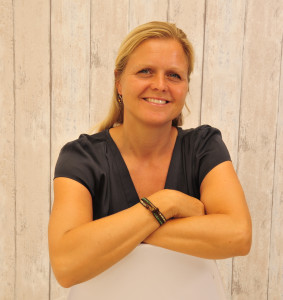 'Dutch' at the University of Amsterdam and my bachelor 'Human Resource Management' at the 'Hogeschool van Amsterdam', I decided to focus on business services. I joined the ABN AMRO Bank and worked in various commercial functions. In a period of eight years, I learned a lot about communication, commerce and management. My last position was as a brand manager where I was in charge of 15 employees. During this period I was increasingly wondering: 'What do I want to achieve in my life' and 'Is this it?'. I also asked myself afterwards how I handled stressful situations, indicating my limits and finding a balance between work and private life. After eight years of working at the ABN AMRO Bank, I resigned and went on a world trip with my husband. This period was characterized by plenty of time to enjoy and to get to know each other and oneselves better.
Upon return, it was time to follow my passion; I started to study psychology. The combination of depth in my work and working with people appeals to me. Since 2006 I've been working as a psychologist. I started at the Anxiety Clinic of mental health care in Amsterdam. I treated patients for a variety of anxiety disorders through cognitive behavioral therapy. In 2007 I switched to Interapy (part of the HSK Group) where I treated more than 500 online clients with different symptoms (trauma, depression, burnout, panic symptoms and eating disorders), until 2015. I supplemented my knowledge and experience with the education of cognitive behavioral therapist (VGCt) and various courses such as' mindfulness' and 'families and couples therapy'. In 2007 I started my own practice. I enjoy using my knowledge and experience to coach others in their search of who they are and help them find the course they want to take? Since 2007 I have been working closely with Microsoft, since 2011 with AEGON Asset Management , since 2014 with ING Bank NV and since 2016 with FMO.